Got my assignment for this week's Writer's Workshop from MamaKat, and it's:
Write about your wedding song. What was it and why did you choose it?
So I am writing about our wedding song, One Love. It isn't widely known, so if you could click the link and listen to the song first before reading the rest of this post, I'd appreciate it. And so will you, I guarantee it!
Click this link to listen to the song! Rick and Cathy Riso – One Love
To one love
I'll give my everything, my all to you alone
Oh, as now I say 'I do'
For all my life, my love,
I promise you my heart forevermore
And only you cherish and adore
So from this day on
I will serve you with one love
The first time I heard this song was through My Man, years before we even got together as a couple and started dating. It was included in Rick and Cathy Riso's album "As For My House". They told the story of how, amidst all the stresses of their wedding preparation, they decided to write and sing their vows to each other. Crazy, right? But at the time I remember thinking, "Wow, what an amazing idea." Really though, it's such a beautiful song!
Years passed, and after we'd gotten engaged, our own wedding plans took off. One by one, all the details fell into place. The wedding venue was finalized. The caterer was booked, as were the florist, photographer/videographer and sound system dudes. Soon, we were faced with the challenge of having to pick songs for the ceremony and reception. At the same time, I was pestering trying to convince my then-fiancé that we should write our own vows, and he reminded me about this song. He suggested that we (and by we, I mean my brother D and sister C) should sing this during the wedding because, according to him, it so accurately conveys his feelings for me (insert eye roll here). I pshawed at this, but secretly mulled it over.
He's a smart one. It was perfect for the wedding AND he wouldn't have to write his own vows. He just knew I was keen on this song and used it to his advantage. In the end, I beat myself up for not thinking of it myself relented, and then there was only the matter of browbeating my brother and sister to sing it for us. NO WAY was I going to sing at my own wedding (although I may have privately daydreamed about doing just that). Besides, My Man plays mean tunes on the piano or guitar, but no one can pay him enough money to hum a song in public. We were elated when my brother and sister agreed without the need for much arm-twisting.
In all seriousness, I loved the song for the fact that towards the end, it has become a vow by the couple to God – a vow to put Him first and center in the marriage, just as My Man and I believe it should be.
We love each other. We trust each other. We respect each other. We try to make our vows ring true in our everyday lives, but I must admit, some days are easier than others. I know there are days when Wifezilla just rears her ugly head. Sometimes he does things that drive me up the wall or just leave me seriously confuzzled. But it's during these days that God reminds us that we made an oath to love, cherish and serve not just each other, but ultimately Him, with our marriage.
Oh Lord, we'll give our everything, our all to You alone
As now we say 'We do'
For all our lives, we promise You our hearts forevermore
And only You cherish and adore
And from this day on
We will serve You, Lord
And with joy we'll sing unto You, our King
So from this day on
We will serve You with one love!
Your turn to share! What was your wedding song and why did you choose it? Then head on over to MamaKat's and linky up!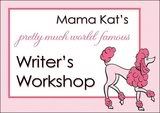 Find what you are looking for