…was when as a teenager full of angst, I talked back to my Dad, yelled and riled at him. For this and many other things, I was forgiven.
…was when I grew up and accepted the fact that just like me, my parents aren't perfect people, and will never be. That doesn't mean they don't deserve my gratitude, or my respect.
…was when my then-unmarried sister told our folks that she was pregnant, and there was no harsh judgment, no hurtful scorn – only quiet acceptance and unwavering support.
…was when one of my girlfriends gave me a stern talking-to because she knew it was what I needed to hear so I could get my act together. She remains one of the best friends I have in the world.
…was when I prayed for my then-boyfriend, knowing full well he had problems that were way over my head. Then loving him enough to give him the time he needed to heal and recover, even if it meant I had to leave him with no reassurance that I'll ever get him back. And 10 years later, we said our "I do's".
…is when the obsessive-compulsive personality rears her dreadful head and My Man does his best to defuse the ticking time bomb a.k.a. his wife with his understanding, loving and giving nature. He's never held my idiosyncrasies over my head.
…is when the Little Miss gives me slobbery kisses after a particularly hard day when my frustrations and shortcomings as a mom threaten to overcome me. She makes me feel as if I've conquered all my failings when she bathes my impatience, my ignorance and my insanity with her innocence and purity.
..was when some 2,000 years ago, God sent His Son to die – in my place, to pay the price for my transgressions and free me from death itself. He continues to love me to this day, even when I fail. Even when I fall.
…is required of me, as God's daughter and His servant. I cannot do it on my own, so I cling to the cross and pray that with His grace, I may be able to forgive the unforgivable and love the unlovable.
1 Corinthians 13 (The Message)
If I speak with human eloquence and angelic ecstasy but don't love, I'm nothing but the creaking of a rusty gate. If I speak God's Word with power, revealing all his mysteries and making everything plain as day, and if I have faith that says to a mountain, "Jump," and it jumps, but I don't love, I'm nothing. If I give everything I own to the poor and even go to the stake to be burned as a martyr, but I don't love, I've gotten nowhere. So, no matter what I say, what I believe, and what I do, I'm bankrupt without love.
Love never gives up.
Love cares more for others than for self.
Love doesn't want what it doesn't have.
Love doesn't strut,
Doesn't have a swelled head,
Doesn't force itself on others,
Isn't always "me first,"
Doesn't fly off the handle,
Doesn't keep score of the sins of others,
Doesn't revel when others grovel,
Takes pleasure in the flowering of truth,
Puts up with anything,
Trusts God always,
Always looks for the best,
Never looks back,
But keeps going to the end.
Written as part of MamaKat's Writer's Workshop for the prompt: What does unconditional love mean to you? (inspired when a mother is forced to give her baby up in The Seamstress by Frances De Pontas Peebles)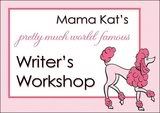 Find what you are looking for