I write this list not to imply that working moms don't value, want or even do any of the things mentioned below. These are simply reasons why I love my job.
1. I get to spend every waking (and sleeping) moment with my Little Miss and watch her grow. That's not to say that I don't miss the adult interaction that a day job brings. There are days that I really long for conversations that don't involve referring to myself in the third person. But I recognize the fact that right now, for me, the most important little person in my life needs me and I wouldn't trade the time I have with her for anything in the world.
2. There's no red tape or office politics involved. 'Cause, you know, that's my absolute most favorite thing in the whole corporate world.
3. Wearing PJ's sunup to sundown and back again 5 days a week. I can get away with wearing jeans and a shirt for the occasional run to the grocery store and I only need to play dress up on the weekends when we go visit my family and church. Seriously, who wouldn't love that?
4. There's nothing like being present for my baby's milestones. Recently, those were her first steps, the first action song she's memorized (Twinkle,Twinkle Little Star!), her learning to hold up her index finger when we ask her how old she is, or counting her fingers and pointing to herself when we ask "Where's Sophie?". Can you tell how proud this mommy is?
5. The ability to plan and hopefully execute her first birthday party the way my husband and I want to. If you've been reading my blog for a while now, you already know I have a teeny-tiny huge tendency to be obsessive-compulsive. It's taken me a long time to curb those tendencies, only to have them brought out again by the party planning. Sigh.
6. I learn something new about myself as I trudge along on the path of motherhood. I always thought I was pretty set in my ways – of course I've learned to work with and compromise with My Man. But being a parent is an altogether different ballgame. Whoever said you can't teach an old dog new tricks clearly didn't take 30-something year old, first time moms into consideration. Well, not that I'm old, but you know what I mean.
7. It has allowed me the freedom to pursue blogging. Apparently, I have a lot to say and being a mom has awakened the writer in me. I have never written this much before and these days I find myself wanting to write, write, write, WRITE! Now, I know working moms are able to blog too – but I just know myself all too well. If I were a mom working outside of the house, I'd rather spend every time I had to spare with my Little Miss before her bedtime and before I collapse in bed myself. Blogging would definitely not be part of the equation.
8. I can police what she watches on TV, and the amount of TV time she gets. I love TV. I have a long list of TV shows, past and present, that I love to watch. But I just don't think having my Little Miss (especially at her very young age) glued to the TV is the best way to keep her entertained. I won't have to suffer watching through High School Musicals and Hannah Montanas, that's for sure!
9. The rewards and benefits are incomparable! I get huge grins for every meal I lay out before her and she never complains (yet, that is). Kisses are randomly given as a bonus that quickly melts away every frustration and hugs are doled out generously that relaxes every tired bone in my body. Extra mommy points are given for singing songs and reading books to her. I make mistakes, and she forgives me without batting an eyelash. That being said, the mistakes I make have the potential to be very costly, which leads me to the next item.
10. I am motivated to pray more and be my best self. Because, let's face it. There are areas in our child's life where there's not much room for error. I need all the guidance and wisdom I can get so as not to mess my kid up. I'm far from perfect. I'm far from being an expert on motherhood. So I look to Jesus, who is the very definition of love and sacrifice. And I thankfully also have a mom in whose footsteps I can follow.
Written as part of MamaKat's Writer's Workshop for the prompt: 10 Reasons why you love your job.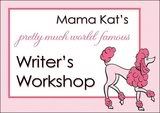 Find what you are looking for